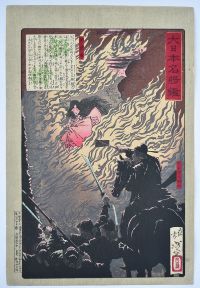 Click here to view image full size.
Yatsunada attacking Saohime's brother's castle from a set of 51 prints Dai Nippon meisho kagami, "A Mirror of Famous Commanders of Great Japan." The set was published by Ebisuya Shoshichi (the first 11 prints) and Funazu Chujiro between 1878-1882. Saohime had conspired with her elder brother Saohikoto to murder the emperor but she abandoned their plan at the last moment. She is seen escaping the conflagration. Published by Funazu Chujiro in 1880.
Fine, early impression. Fine colour. Light album backing, otherwise fine condition. Signed Oju Yoshitoshi hitsu.
Status: Sold