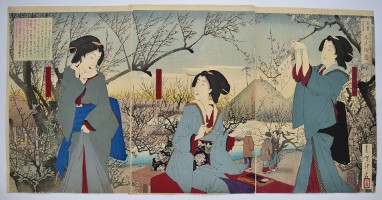 Click here to view image full size.
Spring from a set of triptychs Zensei shiki, "The Four Seasons at their Height." (Actually, only three designs known.) Shows beauties enjoying an outing at the Risshun Plum Garden on the first day of spring at Hara village in the Ebara District. Published by Akiyama Buemon, 3/1884.
Superb impression of the first edition with de-luxe pigments; the red double-printed (lacking on later editions), blind-printing, burnishing, and beautiful bokashi. Fine colour and condition. Signed Oju Yoshitoshi hitsu.
Status: Sold