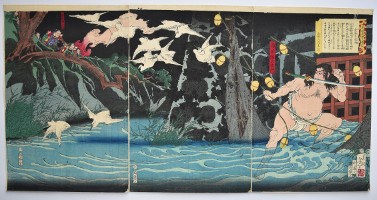 Click here to view image full size.
A triptych showing a scene during the siege of Nagashino Castle by Takeda Katsuyori. Torii Suneemon Katsutaka was sent to get help and managed to evade the guards. He insists on returning to his comrades but meanwhile Takeda has fastened bells to the cables on the castle's exit which gave the alarm and frightens a flock of herons. Katsutaka was captured and died a samurai's death shouting hold fast to his comrades. Takeda's troops were subsequently massacred. Published by Kinseido, 1868. From a series Bidan musha hakkei, "Eight Views from Fine Tales of Warriors."
Very fine impression, the rain beautifully burnished; blind-printing and mica applied. Fine colour and condition. Full size. A fine copy. Signed Tsukioka Yoshitoshi hitsu.
Status: Sold