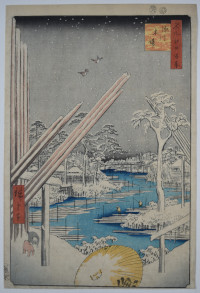 Click here to view image full size.
The lumberyard, Fukugawa, from the set Meisho Edo hyakkei, "One Hundred Views of Edo." The set published by Uoya Eikichi 1856-58 (this being 1856). The set comprises 118 prints by Hiroshige and another by Hiroshige II. However, three prints are dated 10/1858, the month following Hiroshige's death and these are thought to be by Hiroshige II as well. They are: Ueno Yamashita, Ichigaya Hachiman and Bikunibashi. Shows snow falling on the timber yards lining a river. An umbrella in the foreground is inscribed Uo, "Fish" – a reference to the publisher Uoya Eikichi. A large supply of timber was needed for the world's largest wooden city. However, in 1641 a fire destroyed not only houses but the lumber which was then stored in a central area forcing the government to move the yards to Fukugawa.
Very good, early impression. Very good colour. Trimmed close at bottom. Otherwise very good condition. Signed Hiroshige ga.
Status: Available