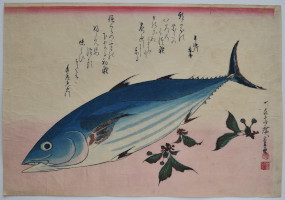 Click here to view image full size.
Katsuo, bonito (Kasuwonus pelamis). Also called ocean bonito, strip-bellied bonito and striped tuna. Together with three sprigs of cherry (sakura). Poems by Toshinoto Haruki and Toshihiro Machikado. From the first commercial edition of the first series published by Eijudo, c 1832-34.
Early impression with the kiwame and publisher's seal sharp. Fine colour. Some slight creasing, otherwise very good condition. Full size. Signed Ichiyusai Hiroshige ga.
Status: Sold