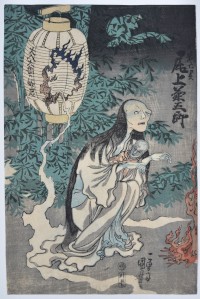 Click here to view image full size.
The actor Onoye Kikugoro III as the ghost of Oiwa from a production of Yotsuya kaidan at the Morita Theatre, 1836. Probably the most famous Japanese ghost story. It was adapted by the playwright Tsuruya Nanboku IV for his friend Kikugoro in 1825. The left panel of a diptych (the right panel being boring and usually ignored). A scene on Snake Mountain showing Oiwa, disfigured by poison, emerging from a burning lantern to haunt her husband, Tamiya Lemon, who had murdered her father. Published by Kawaguchi-ya Chozo, 1836.
Very good impression, colour and condition. Signed Ichiyusai Kuniyoshi ga.
Status: Available