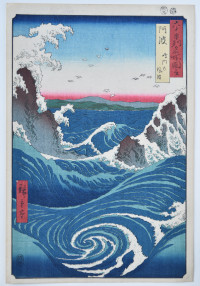 Click here to view image full size.
Awa, Naruto no fuha, Naruto Whirlpools, Awa [Province]" from a set of 69 prints [Dai Nihon] Rokujuyoshi meisho zue, "Famous Places in the Sixty-odd Provinces [of Japan]" published by Koshihei between 1853 and 1856, this being 1855. The finest print from the set and one of Hiroshige's most important designs. The phenomenon is caused by the tides that move large amounts of water through the Naruto Strait into and out of the Inland Sea.
Very fine impression and colour. Light album backing, otherwise fine condition. Signed Hiroshige ga.
Status: Sold