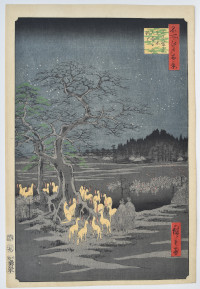 Click here to view image full size.
Oji Shozoku enoki, Omisoka no kitsunebi, "Foxfires on New Year's Eve at the Shozoku Hackberry Tree, Oji," from Meisho Edo hyakkei, "The One Hundred Famous Views of Edo," published by Uoya Eikichi 1856-58 (this being 1857). This is the only design from the set where Hiroshige uses historical fantasy: Every New Year's Eve foxes gathered at the ancient enoki tree to pay their respects to their fox patron in the nearby Inari shrine at Oji, in northern Edo. The shrine was dedicated to the god of the harvests and farmers would predict the outcome of a harvest by the amount of kitsunebi (fox flames) they saw emitted by the foxes. A popular print from the set.
Very good impression, colour and condition. Signed Hiroshige ga.
Status: Sold