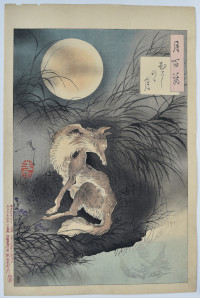 Click here to view image full size.
Musashino no tsuki, "The Moon on Musashi Plain" from the set Tsuki hyakushi, the "Hundred Phases of the Moon." The set published between 1885 and 1892 (this being 1892) by Akiyama Buemon. One of the three best designs from the set and one that relies most on the printer's art – using extensive bokashi. The fox was capable of transmogrifying into human form and vice versa and was popular in Japanese folklore.
Very fine impression with beautiful gradation of the earliest printings on the grasses around the fox. (See Beauty & Violence, 1992, 54.97, p. 75 for an example of the more prosaic later printing.) The set was popular and many editions were printed and many late impressions exist. Great care was taken with the cutting of the blocks on this set and only early impressions do them justice. Fine colour and condition. An impression that has not been in an album. Full margins. Signed Yoshitoshi.
Status: Sold