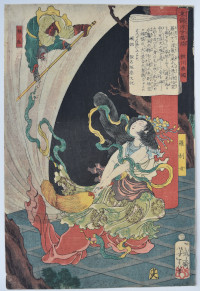 Click here to view image full size.
A design from the set Azuma nishiki ukiyo kodan, "Rough Tales of the Floating World." Various publishers between 1867-1868, here Omi-Kyu in 1868. The prints interpret stories told by various well known storytellers, in this case Momokawa Enkoku. Shows the Monkey King (Son Goku) being catapulted into the air by the force of the large palm fan of Princess Iron Fan. (The fan was capable of creating strong winds and putting out fires.) She was a Rasetsunyo, a female protector of Buddhism. A comparatively rare set
Very good impression, colour and condition. Signed Ikkaisai Yoshitoshi hitsu.
Status: Sold