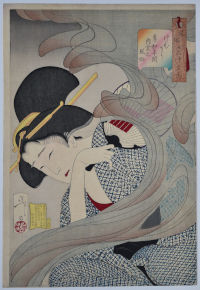 Click here to view image full size.
Kemu-so: Kyowa nenkan naishitsu no fuzoku, "Looking Smoky:The Appearance of a Housewife of the Kyowa Era." From the set: Thirty-Two Aspects of Women published by Tsunashima Kamekichi, 1888. Shows a housewife fanning a smoldering fire probably intended to repel summer insects. The best design from the set.
Very fine impression, colour and condition of the first edition. The gradation and printing of the smoke is particularly accomplished. Signed Yoshitoshi ga.
Status: Sold