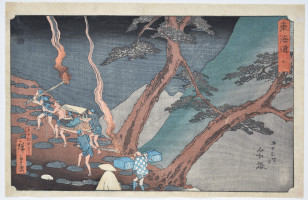 Click here to view image full size.
Hakone from the "Reisho" Tokaido. So-called because of the titles written in formal script. The best Tokaido set after the Hoeido. Shows travellers holding pine-torches climbing a mountain path at night. The Hakone mountains were one of the most gruelling parts of the Tokaido, but at the same time one of the most relaxing with the hot springs, Lake Ashi and the fine cryptomeria trees. Published by Marusei, c 1851-2. One of the five best designs from the set and probably the masterpiece. The composition and use of kimetsubishi to show the woodgrain in the night sky and mountains makes it one of Hiroshige's most beautiful prints.
Very good impression, colour and condition. Signed Hiroshige ga.
Status: Sold