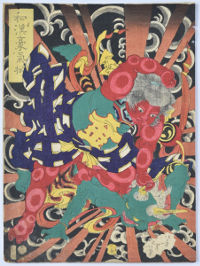 Click here to view image full size.
A chuban print from a set Wakan goki zoroi, "Valour in China and Japan." Shows Kintaro about to deliver a blow to the Thunder God Raijin (the God of thunder and lightning – a Japanese Thor). Published by Daisada, 1868. A rare set.
Fine impression, colour and condition. Signed Ikkaisai Yoshitoshi hitsu.
Status: Sold