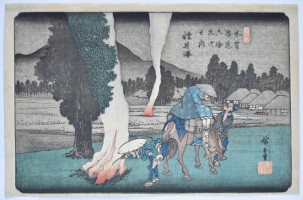 Click here to view image full size.
Station Karuizawa from Kisokaido rokujukyo tsugi no uchi, the "Sixty-nine Stations of the Kiso Kaido." A night scene after the autumn harvest and the stubble is being burned. In the background the village and Mt Asama in the distance. A traveller stops to get his pipe lit by another traveller illuminated by the light cast from his lantern. Another traveller stoops to light his pipe from one of the bonfires. Published by Hoeido (Takenouchi Magohachi)/Kinjudo (Iseya Rihei), c. 1838. The lantern is inscribed Iseri (for Iseya Rihei) and their mon is partially seen on the saddlecloth of the horse. On later editions this seal was removed. The first edition of this design has a Takenouchi seal to the left of the inscription top centre.
Fine impression. Very good colour and condition. Signed Hiroshige ga.
Status: Sold