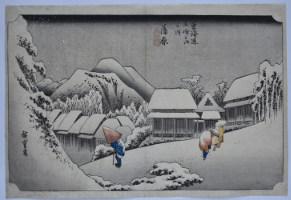 Click here to view image full size.
Kambara, yoru no yuki, "Night Snow at Kambara" from Tokaido gojusan tsugi no uchi, "Fifty-three Stations of the Tokaido Road." The set published by Hoeido (Takenouchi Magohachi)/Senkakudo, c. 1833-4. One of Hiroshige's most celebrated designs, discussed and illustrated extensively. This is the very rare first edition: The sky is graded down from the top and the last figure on the right has the uncleared wood evident on the legs. This mistake was soon rectified but in doing so the block cutter made a small break above the knee. Probably the earliest state of the first edition has a blue tint to the gradation on the distant hills: See the Honolulu Academy of Arts impression, 15.927. Kambara owes a lot to Hiroshige's imagination as it doesn't resemble any place near there. Also, Kambara has little snow, yet it remains one of Hiroshige's most iconic images.
Fine impression of the first edition with subtle gradation on the roofs of the houses and elsewhere. Seals a little faded, otherwise very good colour. Slight centre fold, otherwise very good condition. Signed Hiroshige ga.
Status: Sold