An original painting by Eizan who was the leading exponent of bijinga in the early 1800s producing many fine oban, triptych and shunga designs. He founded the Kikukawa School. Surprisingly, given his output of prints, his paintings are rare. This beautiful example, full colour on silk, 35 x 14.5 in; 88.9 x 36.8 cms, shows a courtesan reading a letter. Her sumptuous clothes are restrained in pattern and colour before the excesses of later years and other artists. Another example, not as fine as offered here, is in the Tokyo National Museum and is illustrated in their catalogue Ukiyo-e Painting Exhibition, 1993, no. 72, p. 64. The British Museum has a very slight painting of a beauty by Eizan illustrated in Ukiyo-e Paintings in the British Museum, Timothy Clark, Smithsonian Institution, 1992, no. 148, p. 195. One other fine example is illustrated in Masterpieces of ukiyo-e paintings from the Weston collection, various authors, 2015, no. 106, p. 161. Painted c. 1815-25. Signed Kikukawa Eizan hitsu with seals Kikukawa and Toshinobu. In very good condition having been recently remounted.
Status: Sold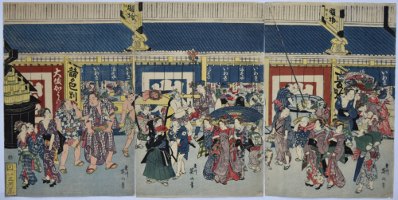 Click here to view image full size.
A triptych showing a street thronged with people in front of the famous department store Iwaki Masuya, giving a good cross-section of the inhabitants of the city at this time. The store specialised in silk and textiles and was one of the most important in Edo having, at one point, 500 employees in its stores. Hiroshige designed another triptych of this subject in c. 1850.
Published by Mikawaya Seiemon, c. 1815. Rare.
Fine impression. Extremely fine fresh colour. Fine condition. Full size. Signed Kikukawa Eizan fude.
Status: Sold