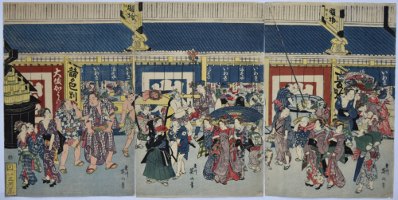 Click here to view image full size.
A triptych showing a street thronged with people in front of the famous department store Iwaki Masuya, giving a good cross-section of the inhabitants of the city at this time. The store specialised in silk and textiles and was one of the most important in Edo having, at one point, 500 employees in its stores. Hiroshige designed another triptych of this subject in c. 1850.
Published by Mikawaya Seiemon, c. 1815. Rare.
Fine impression. Extremely fine fresh colour. Fine condition. Full size. Signed Kikukawa Eizan fude.
Status: Sold