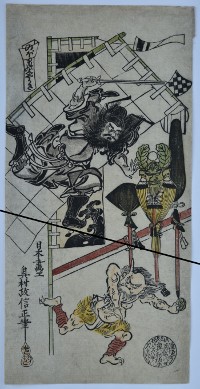 Click here to view image full size.
An hosoban showing banners for the Boy's Festival held on the fifth day of the fifth month. These depicted Shoki, the Demon Quellor. One Shoki has come alive and leaps down from the banner to attack an oni – his traditional foe. At the top left on a small banner is the title: Nobori no Shoki, "Shoki the Devil-Quellor." Masanobu was one of the most influential artists in Ukiyo-e. His long life covered hand-coloured prints through to full colour printing in the mid 1760s and he was one of the first to use the block-printing process after 1740 and pioneer the benizuri-e picture. Extremely innovative: he pioneered the uki-e print, pillar print and ishizuri-e. Not only was he a print artist, he also illustrated books, albums and produced paintings. He started his own publishing house, Okumuraya, which gave him greater control over the printing process. The popularity of his work led to many copies by other publishers, and he had to certify his work as being the "genuine" article. Published c 1725 by Tori-shio-cho, kongen Okumura hammoto. Kono ho no e nise han soro aida hyotan shirushi idashi soro. Provenance: Ex Schindler collection with seal au verso. See Masterpieces Of Ukiyoe-e Prints from The Schindler Collection, Nihon Keizai Shimbun Inc., 1985, no. 8, page 22. Extremely rare.
Very good impression and colour. Urushi: hand coloured with yellow, tan, green and sumi wash. Small edge repair top left, otherwise very good condition. Signed Nihon gwako Masanobu sho-hitsu with Okumura seal.
Status: Sold