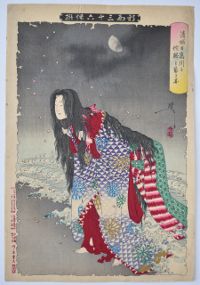 Click here to view image full size.
Shows Kiyohime changing into a serpent on the edge of the Hidaka River. The monk Anchin fell in love with Kiyohime only to change his mind. He escapes across the river followed by Kiyohime who becomes a serpent and traps him in the bell of the Dojo-ji Temple and kills him. From a set Shingata sanjurokkaisen, "New Forms of Thirty-six Ghosts," sub-title: Kiyohime Hidakagawa ni jatai to naru zu. The set published by Sasaki between 1889 -1892 (this being 1890). This is the first edition.
Very fine impression, colour and condition. Signed Yoshitoshi.
Status: Sold