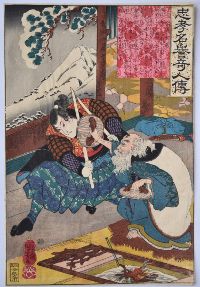 Click here to view image full size.
Miyamoto Musashi fencing with Tsukahara Bokuden from the set Chuko meiyo kijin den, "Stories of Remarkable Persons of Loyalty and High Reputation." Published by Iseya Ichiemon (this design) or Enshuya Matabei 1845. Robinson S35.8. Tsukahara Bokuden was a famous swordsman (1489-1571). He is shown here parrying Musashi's wooden swords with pot lids. Actually, Bokuden died 13 years before Musashi was born, so this is anecdotal.
Superb impression and colour. Very slight crinkling and trimmed close, otherwise fine condition. Signed Ichiyusai Kuniyoshi ga.
Status: Sold