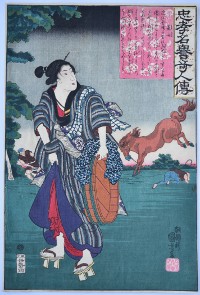 Click here to view image full size.
Kaneko Kugutsune (aka Okane, Kane-jo, and Omi no Okane) from the set Chuko meiyo kijin den, "Stories of Remarkable Persons of Loyalty and High Reputation." Published by Iseya Ichiemon or Enshuya Matabei (this design) 1845. Robinson S35.5. Known as the Strong Woman of Omi, she is credited with subduing a runaway horse by holding its rein down with her geta. She is shown here with her washtub, the wild horse in the background.
Superb impression and colour. Very slight crinkling , trimmed close and some small wormage, otherwise fine condition. Signed Cho-o-ro Kuniyoshi ga.
Status: Sold