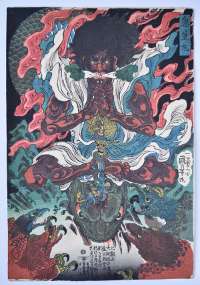 Click here to view image full size.
Kido Maru learning magic from the forest tengu. Possibly Kuniyoshi's greatest design in this genre. He is shown, cross-legged,atop a giant python, two wrapped pine sprigs (aomatsuba) in his mouth. A long dagger is driven into the python's head and snakes curl around its blade. Robinson SIF.1. Illustrated in colour , pl. 12, and also used on the front cover of B. W. Robinson, Kuniyoshi: The Warrior-Prints, Phaidon, 1982. This is the rare first edition published by Tsutaya Kichizo, c 1840 with the kiwame seal above publisher.
Very fine impression with fine gradation (missing later on). Fine colour. Imperceptible fold, otherwise fine condition. Full size. Signed Ichiyusai Kuniyoshi ga.
Status: Sold