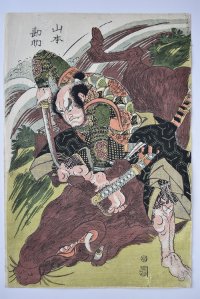 Click here to view image full size.
Yamamoto Kansuke (Haruyuki) (1501-1561) overpowering a gigantic boar. Takeda Shingen's most valuable general and one of the Takeda nijushi-sho, "Takeda's Twenty-four [most trusted] Generals." Kansuke was involved in a lengthy feud with Kenshin Tora and is killed in one of their skirmishes at Kawanakajima on 12 Oct. 1561.
Very good impression, colour and condition. Signed Shuntei ga.
Status: Sold