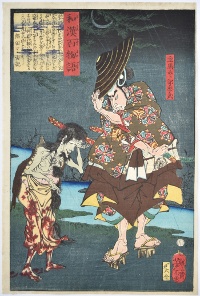 Click here to view image full size.
Shows Suma Urabe Suetake, one of the retainers of Minamoto Yorimitsu, meeting the apparition of the woman Ubume, who is to place a baby boy in his arms. One of a set of 26 prints with title: Wakan hyaku monogatari, "One Hundred Tales of China and Japan." Published by Daikokuya Kinnosuke, 1865.
Very good impression, colour and condition. Signed Ikkaisai Yoshitoshi ga.
Status: Sold