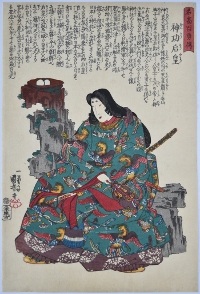 Click here to view image full size.
The Empress Jingo Kogo, sumptuously attired, sitting on a rock with two Imperial Jewels above her. She is supposed to have invaded Korea although there is some debate about this. From a set Meiko hyaku yu den, "Stories of a Hundred Heroes of High Renown." The series published by Idzumi-ya Ichibei, 1843-44.
Very fine impression, colour and condition. Signed Ichiyusai Kuniyoshi ga.
Status: Sold