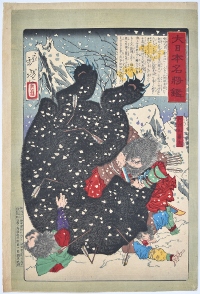 Click here to view image full size.
Abe no Hirafu (c. 575 – 674), a governor of Koshi Province, is famous for quelling the indigenous people of northern Japan – the Ainu. He is shown here killing a giant bear in the snow (of either northern Japan or Korea). From a set Dai Nippon meisho kagami, "Mirror of Famous Commanders of Great Japan." The series of 51 prints published by Kumagai and Funazu Chujiro, c. 1876 – 82. The design here by the latter in 1880.
Fine impression, colour and condition. Signed Oju Yoshitoshi hitsu.
Status: Sold