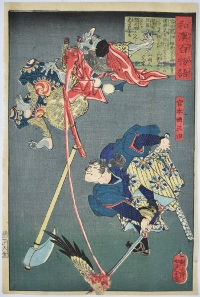 Click here to view image full size.
The famous swordsman Miyamoto Musashi cutting the arm off a tengu. He was taught the short sword technique from his father but then became expert with the long sword, eventually inventing the two-sword style, with the long sword in the right hand, the short in the left. One of a set of 26 prints with title Wakan hyaku monogatari, "One Hundred Tales of China and Japan." Published by Daikokuya Kinnosuke, 1865.
Fine impression. Fine colour and condition. Signed Ikkaisai Yoshitoshi ga.
Status: Sold