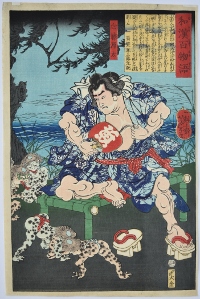 Click here to view image full size.
The famous wrestler Shirafuji Genta watching kappa (amphibious half humanoid, half turtle creatures). One of a set of 26 prints with title Wakan hyaku monogatari, "One Hundred Tales of China and Japan." Published by Daikokuya Kinnosuke, 1865.
Fine impression, colour and condition. Signed Ikkaisai Yoshitoshi ga.
Status: Sold