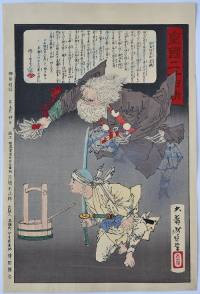 Click here to view image full size.
Tamiya Boutaro from a set Kokoku nijushiko, "The Twenty-four Accomplishments in Imperial Japan." Shows the spirit of the tengu helping Tamiya Boutaro Munechika avenge his father's death. The set published by Tsuda Genshichi 1881-87 (this being 1881).
Fine impression: This is the first edition. It was republished by Matsuki Heikichi with altered signatures and other changes and inferior printing. Fine colour and condition. Signed Oju Yoshitoshi ga.
Status: Sold