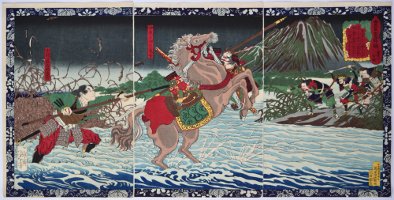 Click here to view image full size.
The battle of Fujikawa from a set of triptychs Toyotomi Shoshinroku published by Yorozumago, c 1869. The set relates Hideyoshi's (1537-1598) exploits. From humble origins he became the second unifier of Japan who, after 100 years of war, brought stability and peace.
Fine impression, colour and condition. Full size with extra paper all around. Signed Ikkaisai Yoshitoshi hitsu.
Status: Sold