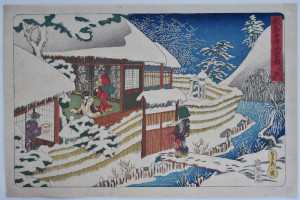 Click here to view image full size.
A snow scene: Act IX of the famous revenge drama, Kanadehon Chushingura, "The Treasury of Loyal Retainers." Actually based on events of 1701-3. Shows Honzo appearing at Yuranosuke's villa at Yamashina disguised as a komuso (a Japanese mendicant monk of the Fuke school of Zen Buddhism). Published by Kawaguchi-ya Uhei, c early 1840s.
Superb impression. Very fine colour and condition. Signed Sadahide ga.
Status: Sold