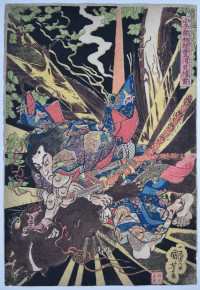 Click here to view image full size.
Koshibe no Sugaru amidst a thunderbolt and lightning captures a raiju (thunder monster) in the village of Toyora. Toyora no sato ni rai o torau. Its body was composed of lightning and usually in the form of a wolf or dog. Its cry sounded like thunder. Raiju is the companion of Raijin, the Shinto god of lightning. Although normally tranquil, during thunderstorms it became agitated and attacked trees. (Those that are struck by lightning are said to have been scratched by Raiju's claws.) He presented it to the Emperor. Published by Nishimura-ya Yohachi, c. 1834-5. Robinson SIc.2. A wonderful design.
Superb impression. Very fine colour and condition. Signed Ichiyusai Kuniyoshi ga.
Status: Available