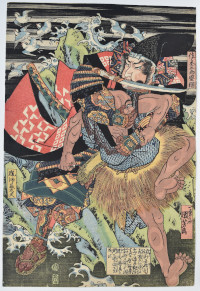 Click here to view image full size.
Shows Sasaki Saburo Moritsuna, holding a dirk in his mouth, and strangling the fisherman Fujidayu. From an untitled set published by Kawaguchi-ya Uhei, c 1825-30. The story revolves around Moritsuna bribing the fisherman to reveal the whereabouts of the shallows at Fujito, a strait separating Kojima from the mainland, and being 500 yards wide impossible for the troops to cross without boats to attack the Taira forces. The version depicted here shows Fujidayu being killed, rather than just bribed. Robinson Sia.6.
Fine impression, colour and condition. Signed Ichiyusai Kuniyoshi ga.
Status: Available