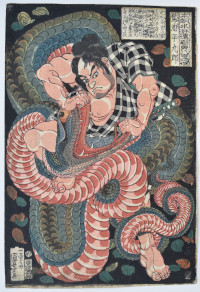 Click here to view image full size.
Saginoike Heikuro from Honcho Suikoden goyu happyaku-nin no hitori, "Eight Hundred Heroes of our Country's Suikoden, One by One." Shows the brigand wrestling with a huge serpent at the Lake of Sayama (or Hazama) at Tondabayashi in the Province of Kawachi. Published by Ibaya Sensaburo, c 1845. (First issued by Kaga-ya Kichiyemon, c 1831, his seal just visible lower right corner.) Robinson S4b.4. A fine design.
Very good impression and colour. Full size. Slightly soiled bottom left, otherwise very good condition. Signed Ichiyusai Kuniyoshi ga.
Status: Available