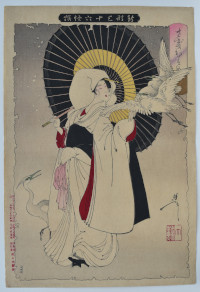 Click here to view image full size.
Shows the famous Heron Maiden. There are different versions of this story but the most common tells how a young man finds an injured heron. He nurses it back to health and releases it. Some time later a beautiful young woman appears in his village. He falls in love and they marry. She makes fine brocade which they sell, but she does not allow him to see her making it. Tempted , he secretly views her only to discover she is the heron. This is the end of their marriage and the heron flies away. From the set Shingata sanjurokkaisen, "New Forms of Thirty-six Ghosts," subtitle: Sagi-musume. The set published by Sasaki between 1889-1892 (this being 1889). This is the first edition.
Very fine impression, colour and condition. Signed Yoshitoshi.
Status: Sold