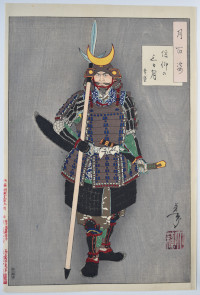 Click here to view image full size.
Faith in the Third-day Moon from the set Tsuki hyakushi, the "Hundred Phases of the Moon." The set published between 1885 and 1892 (this being 1886) by Akiyama Buemon. Shows the standing figure of the samurai Yamanaka Shikanosuke Yukimori. The moon appears both as a half crescent on his helmet, and also on his kamayari, "sickle spear." The crescent moon was considered a lucky emblem (mikazuki) and Yukimori believed it would bring him good luck in battle
Very fine impression of the earliest printing with beautiful gradation around the figure – often missing on late editions. The set was popular and many editions were printed and many late impressions exist. Great care was taken with the cutting of the blocks on this set and only early impressions do them justice. Fine colour. Light backing and slight trimming at left, otherwise fine condition. Signed Yoshitoshi.
Status: Sold