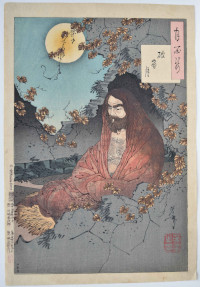 Click here to view image full size.
Haso no tsuki, "Moon Through a Crumbling Window" from the set Tsuki hyakushi, the "Hundred Phases of the Moon." The set published between 1885 and 1892 (this being 1886) by Akiyama Buemon. Shows Bodhidharma (Jap: Daruma), founder of Zen Buddhism, meditating in a cave for nine years after being refused entry to the Shaolin Monastery. He cut off his eyelids in anger after falling asleep two years into the meditation, and tea plants grew where they fell.
Fine impression with strong woodgrain showing in the sky and wall. The set was popular and many editions were printed and many late impressions exist. Great care was taken with the cutting of the blocks on this set and only early impressions do them justice. Fine colour and condition. An impression that has not been in an album. Full margins. Signed Yoshitoshi.
Status: Sold