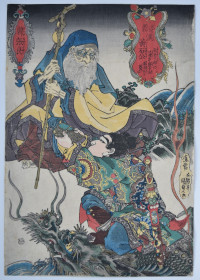 Click here to view image full size.
Kan Zhang Liang (below) and Huang Shigong from the set Kan-So gundan, "Battle Tales of the Han and Chu." The success of the Chinese warrior tales retold by Takizawa Bakin (1767-1848) in his novel "The Water Margin: New Illustrated Edition" published in 1805 resulted in the commissioning of Kuniyoshi to produce his famous series based on the heroes of the "Water Margin" in the late 1820s. Likewise for this set by Kunisada from around the same date. The story relates how Zhang Liang was walking near the Yishui Bridge one day when he met an old man who threw his shoe from the bridge and ordered Zhang Liang to return it and place it on his foot. Without thanking him the old man walked off but with the instruction to meet him five days later. Zhang Liang duly returned at dawn five days later to find the old man already there. Annoyed, the old man reiterates his command but with the same result. The third time Zhang Liang arrives at midnight so impressing the old man with his punctuality, fortitude and humility that he presents him with a book the knowledge from which will bring peace and prosperity to the empire during troubled times. He also tells him to meet again in thirteen years when he will be the yellow rock at the foot of Mount Gucheng. The old man was Huang Shigong. Zhang Liang visits after thirteen years, finds the rock, builds a shrine and is buried with it. Kunisada's design shows the moment that the shoe is presented back to Huang Shigong. Published by Eijudo c 1827 (although this impression does not have publisher's mark). The set was reissued by Joshuya Juzo.
Very fine impression. Fine colour and condition. Signed Oju Gototei Kunisada ga.
Status: Sold