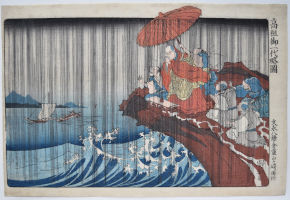 Click here to view image full size.
The priest Nichiren standing on a rocky promontory at Reizen in Kamakura and having his prayers for rain answered. The event occurred in 1271. His disciples surround him and protect him from the deluge with a large umbrella. Bunei hachi Kamakura Reizan-ga-saki uki. The second best design from Koso [Nichiren] goichidai ryakuza, "Illustrated Abridged Biography of the Founder." Nichiren (1222-1282) was the founder of the Buddhist Nichiren sect (Nichiren shu – Kuniyoshi being a follower) and indeed the set of ten prints may have been commissioned to mark the 550th anniversary of his death. Published by Iseya Rihei c. 1831.
Fine impression. This example has an orange-red colour used on Nichiren's robe and umbrella rather than the brighter red of other impressions. Very good colour and condition. Full size with ample room on top border for the umbrella which protrudes beyond the border and is notorious for being trimmed. Signed Ichiyusai Kuniyoshi ga.
Status: Sold