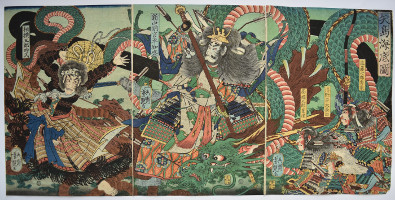 Click here to view image full size.
A triptych showing the defeated generals Shin Chunagon Taira no Tomomori and Sagami Goro Tokiuji of the Taira Clan, having committed suicide, at the bottom of the sea near Yashima Dan-no-Ura in 1185. The Taira were defeated by the Minamoto led by Minamoto no Yoshitsune. Tomomori facilitated his drowning by tying a giant anchor to himself. A large dragon coils around them representing the royal household. Yoshitsuya designed another triptych version of this scene but this interpretation is by far the rarer. Published by Kagaya Kichibei, 1861.
Very good impression, colour and condition. Signed Ichieisai Yoshitsuya ga.
Status: Sold