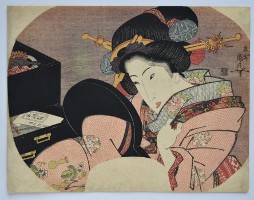 Click here to view image full size.
An uncut fan print showing a beauty looking into a lacquered hand mirror which she has withdrawn from a lacquered cabinet. Kunimaru produced some exceptional fans, of which this is one. However, his work in other fields is not noteworthy and it does pose the question if there were two artists with the same name ? Published 1827. Of particular interest is the design on the under-garment she is holding which has a Dutch motif of cherubs. Rare.
Very fine impression with strong burnishing on the mirror case, cabinet and her hair. Fine colour. Small repaired binding holes, otherwise very good condition. Signed Kunimaru hitsu.
Status: Available

Click here to view image full size.
An uchiwa-e (fan print) showing summer flowers: hydrangea, peony, iris, chrysanthemum, morning glory, etc against a yellow ground. Of the utmost rarity: possibly the only recorded example. Published by Ibaya Senzaburo with date seal Bunsei 10 (1827). Ex Werner Schindler collection and illustrated in Masterpieces of ukiyo-e prints from the Schindler collection, Kondo/Suzuki, Tokyo 1985, pl. 165, p. 140.
Fine impression; very good colour and condition. Signed Kunimaru hitsu.
Status: Sold