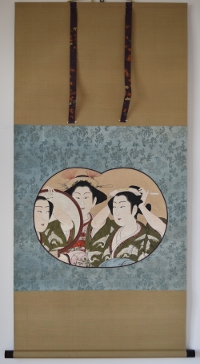 Click here to view image full size.
A rare, highly talented and enigmatic painter who produced only a few masterpieces. There is some confusion over his active working life with differing dates from 1748 to 1780, but he was certainly painting in the 1760s. This unusual composition shows a beauty adjusting her hair by obliquely looking in a mirror held by her maid who stares unnervingly straight at the viewer. This painting is well known and is illustrated in Nikuhitsu Ukiyoe, Collection of Ukiyo-e Paintings Classified by Artist and Schools, Vol. 4 (of 10): Katsukawa school, Suzuki Harunobu and Isoda Koryusai, pl. 83, edited and published by Shueisha, 1982. It is also mentioned on page 113 in Ukiyo-e Large Encyclopaedia, Vol. 2, edited by Japan Ukiyo-e Society, published by Taishukan, 1982. Another Kanshi painting showing a beauty collecting bamboo shoots in the snow was exhibited at the Metropolitan Museum of Art, NY, in 2014, in an exhibition: The Flowering of Edo Period Painting: Japanese Masterworks from the Feinberg Collection.
Full colour on paper with mica on the mirror, image size 14.5 x 20 in; 37 x 51 cms. In extremely good condition with double box. Painted c 1765.
Status: Sold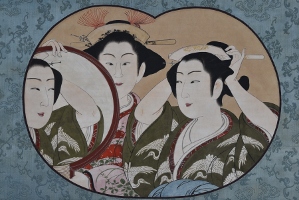 Click here to view image full size.