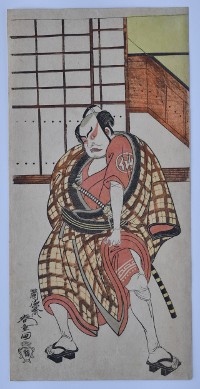 Click here to view image full size.
A hosoban showing the actor Nakamura Sukegoro II as Sasano Sangobei (an otokodate – chivalrous commoner) in part two of the play Iro moyo aoyagi Soga, "Green Willow Soga of Erotic Design." Performed at the Nakamura Theater 2/1775. Shundo was an early pupil of Shunsho's and this fine design is comparable to the best that Shunsho produced. The left sheet of a diptych. The complete (faded) design is illustrated in The Actor's Image, Clark & Ueda, A.I.C., 1994, no. 135, p. 358/9. Rare.
Fine impression. Fine, totally unfaded colour. Fine condition. Signed Rantokusai Shundo ga with Hayashi in jar-shaped seal.
Status: Sold