Click here to view image full size.
An original painting, full colour on silk, image size 37.75 in x 15 in; 96 cms x 38 cms.
This pupil of Kitagawa Tsukimaro is known for his prints of full length beauties. Paintings by him are extremely rare and this is possibly the finest example. Shows a Kagi-zu, a geisha who entertained by playing the shamisen. Her attendant is seen behind her holding the three-stringed instrument. The shamisen came originally from China via Okinawa and underwent certain changes. It was adopted by the geisha culture in 1750 and took a number of years to master. New mount and box with a futo-maki ( a thick wooden roll to preserve the painting from damage ). In fine condition. An exceptional painting – especially the rendering of the acolyte's face. Signed Toto ( Eastern Capital ) Shikimaro ga with red kakihan.
Status: Sold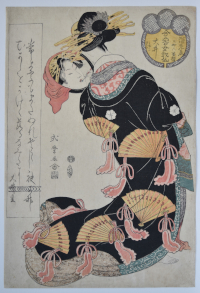 Click here to view image full size.
The courtesan Oi of the Ebiya smoking a pipe and admiring her reflection in a mirror. From a set Imayo onna kasen, sanjurokuban tsuzuki, "Thirty-six Modern Female Poets." In the panel to the left is an example of her calligraphy with the names of her kamuro: Miyako and Sakuro. Her sumptuous kimono is decorated with fans – the emblem of the house of Ebiya. Probably a pupil of Tsukimaro carrying on the tradition of Utamaro. Published by Nishimuraya Yohachi (Eijudo), 1813.
Very good impression, colour and condition. Signed Shikimaro ga.
Status: Sold