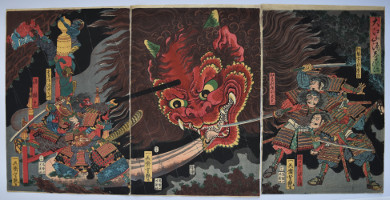 Click here to view image full size.
Oeyama Shuten doji. Shows Minamoto no Raiko and his four retainers, from left to right: Sakata no Kintoki, Usui no Sadamitsu, Watanabe no Tsuna and Urabe no Suyetake on Oyeyama, "Devil's Mountain." In the year 995 the Emperor commanded Raiko to kill the beast who had been kidnapping and eating young maidens around Kyoto. They accomplished this by dressing as priests and getting Shuten-doji incapacitated with alcohol. Raiko has just decapitated the giant head of the demon which then descends on his helmet which saves him. Published 1855 by Kiya Sojiro . A fine design.
Fine impression and colour. Expert edge repair at top right edge of first sheet, otherwise very good condition. Signed Ichieisai Yoshitsuya ga.
Status: Sold