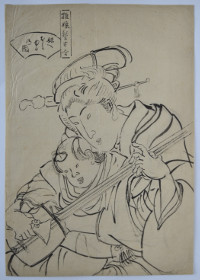 Click here to view image full size.
An original preliminary oban sumi drawing for an unpublished set. Shows a young woman teaching a child to play the shamisen and how to use the plectrum (bachi). With intended series title: Osana musume keiko awase, "Teaching the Arts to a Young Girl." And sub-title: Imouto e oshieru no zu, "Picture of Teaching a Younger Sister." A particularly interesting drawing as it shows the spontaneity of the initial concept. Kunisada may have made a further more detailed sketch but a final very detailed drawing was needed for the block-cutter to follow accurately and this would have been given to a pupil to undertake. For obvious reasons, these drawings did not survive.
In very good condition.
Status: Sold