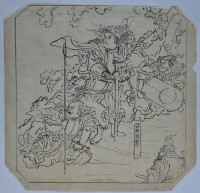 Click here to view image full size.
A fine original sumi drawing (hanshita-e) for an unpublished print for the set Tokaido gojusan tsui, "Fifty-three Parallels for the Tokaido Road." The set was published by various publishers in 1845-6 and was a collaboration with Kunisada and Hiroshige. Sumi on thin paper. This is a design for the lower half of the oban print, the top half having the title and a panel with the name of the post-station. Shows Yamato Takeru no Mikoto. A legendary prince, son of the Emperor Keiko. Shown here with his retainers.
In extremely good condition. Provenance: Purchased from me in 21/11/1975. Rare.
Status: Available