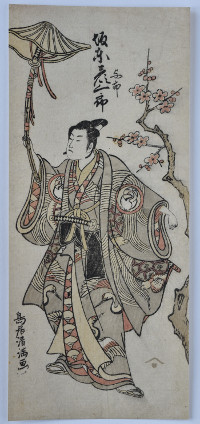 Click here to view image full size.
An hosoban benizuri-e showing the actor Bando Hikosaburo II as Sanada no Yoichi Yoshitada in the play Ume ya suisen izu no irifune performed at the Morita Theatre, 11/1763. Yoshitada served the Minamoto Clan and is usually shown fighting his adversary Matano Goro Kagehisa. Published by Harimaya Shinshichi. Interestingly, the impression in the MFA, Boston, 06.404, has the publisher's seal Nishinomiya Shinroku. Possibly a slightly later reprint. Kiyomitsu was the second son of Kiyomasu II.
Very good impression and colour. Light album backing, otherwise very good condition. Signed Torii Kiyomitsu ga.
Status: Sold