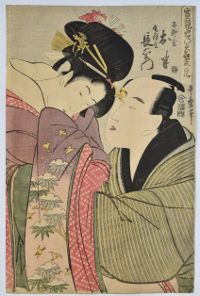 Click here to view image full size.
Shows Shinanoya Ohan (left) and Obiya Choemon from a series of half-length portraits of pairs of lovers featured in joruri love-suicide plays. Jisu kurabe iro no minakami, "True Feelings Compared: The Founts of Love." Choemon was the adopted heir of Obiya, an obi business in Kyoto. Ohan was a young girl from the Shinanoya store next door. In fact, the drama is based on an actual event in Kyoto during the Kyoho era. Two dead bodies were discovered in the Katsuragawa; one of a 50 year old man, the other of a 14 or 15 year old girl. Published by Nishimuraya "Sei" c 1798-9. Another impression is in the MFA Boston, 11.14296. Provenance: Ex Louis Gonse collection. Rare.
Fine impression. Exceptionally good colour. Fine condition. Signed Utamaro hitsu.
Status: Sold