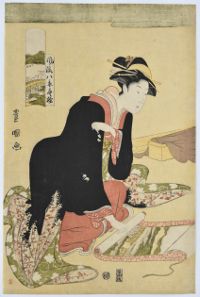 Click here to view image full size.
A beauty from a set Furyu hakkei, "Fashionable Eight Views." Each beauty represents one of the famous Eight Views of Omi, here being Evening Glow at Seta.This theme, which originates from China, is often encountered in Japanese art. Shows a young woman unrolling a scroll with a view (presumably) of Seta Bridge. An extremely rare set with the designs standing alone but also forming diptychs. Three other single prints from the set are illustrated in Ukiyoe-e Taikei, vol. 9, no. 6, Night Rain, in colour, and nos. 101, Evening Snow and 102, Returning Sail, in b/w. A complete (faded) diptych is in the MFA Boston, Returning Sail and Returning Geese, 21.7473-4. I cannot, at the moment, locate another impression of this design. Published by Izumiya Ichibei (Kansendo) c 1794 – Toyokuni's best period. Provenance: Ex collection Hayashi (seal bottom left) and Louis Gonse. A beautiful print.
Fine impression. Slight loss of gold in cloud at top but otherwise fine colour. Fine condition. Signed Toyokuni ga.
Status: Sold